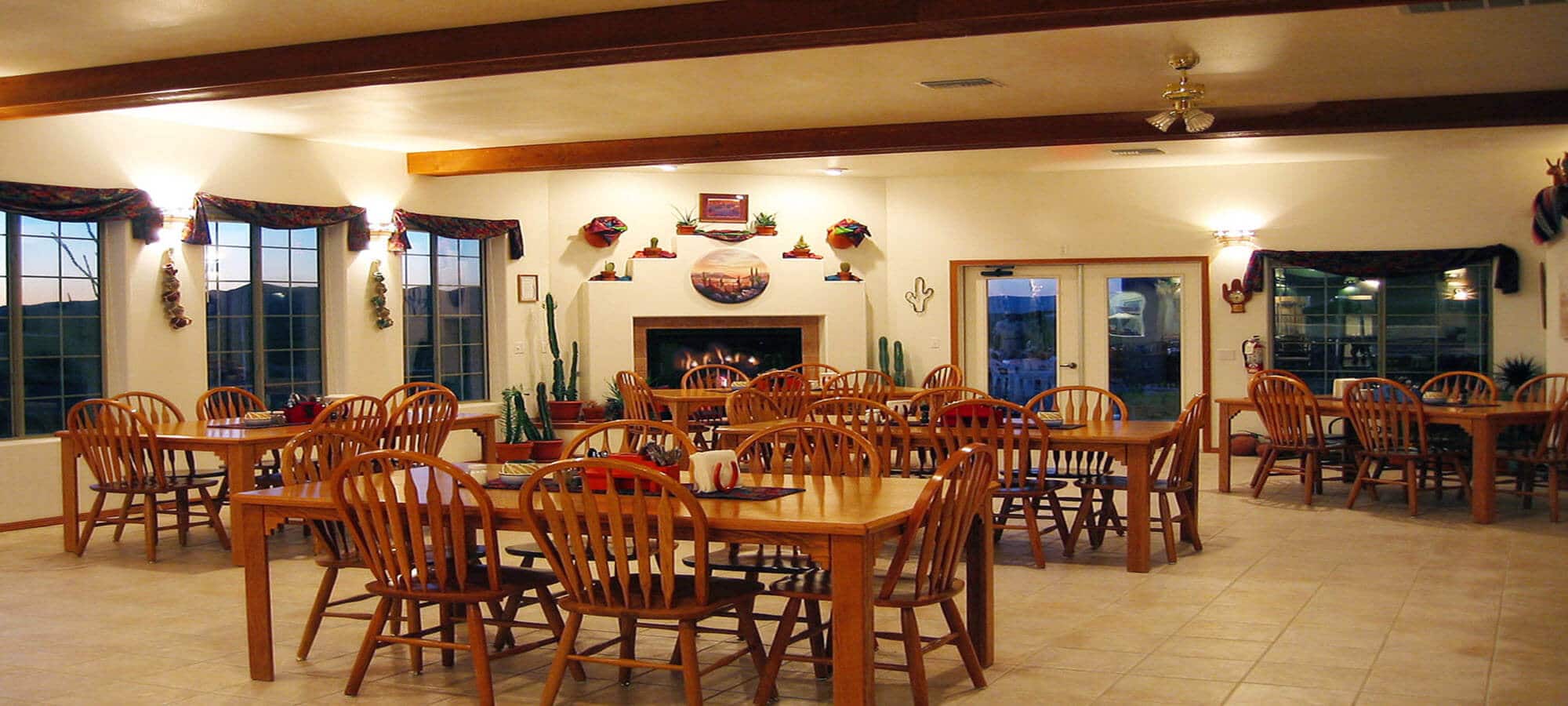 Home-Cooked Meals At The Ranch
What is more enjoyable than 3 mouth-watering meals each day? Nothing! Even our fantastic horseback riding program may not compare to our food! We offer three delicious meals daily along with delectable desserts, wonderful home-cooked breads, cookies and snacks. We offer a fine selection of wines and beer to complement your dinner.  In the main Lodge, we also offer popcorn upon request and a full bar. Other snacks, beer and beverages are available to purchase in the lodge as well.
Hualapai Dining Room
On Sunday mornings a buffet brunch will be served to give your cook a much needed morning off and to enable us, and others who so wish to attend church. Most meals are served buffet style with a couple of sit-down meals as well, and occasionally we will eat dinner outdoors under the stars (weather permitting since the desert can get cold at night in the winter!).
Please Note: We need to know well in advance if you have any special dietary requirements so we can plan accordingly. Please be sure to tell us about them when you make a reservation with us. We will be happy to serve you "special meals." Learn more about our ability to accommodate guests with any special needs here.
Check this site regularly for special ranch recipes. Believe me, once you've enjoyed some of the desserts that are offered at the ranch, you will want to take the chef home with you! Since you can't do that, we will persuade him to share a recipe or two with you from time to time.
Pecan Pie (8 servings)
9-inch unbaked pie crust, 1 cup light corn syrup, 1 cup firmly packed brown sugar, 3 eggs, 1/3 cup butter, 1/3 teaspoon salt, 1 teaspoon vanilla, 1 heaping cup pecan (or walnut) halves.
Heat oven to 350 degrees. Prepare pie crust. In large bowl, combine corn syrup, sugar, eggs, butter, salt and vanilla, mix well. Pour filling into crust, sprinkle with pecans (or walnuts).
Bake at 350 degrees for 45-50 minutes or until center is set. (Toothpick will come out clean when pie is done.) Cool. If crust appears to be getting to dark you can cover the edges with tin foil. Top it with whipped cream or ice cream or serve by itself.